Public data ADIAC project
You are free to use the information contained in this page for scientific (non-profit) research purposes if you refer to ADIAC, CEC contract MAS3-CT97-0122, in all your publications. Please send us a copy such that we can compile a reference list.
VERY IMPORTANT: Micha Bayer has prepared a general introduction to the diatom identification problem. SEE THE INTRODUCTION PAGES.
PHYCOLOGISTS: visit the ADIAC online diatom image database!

Just click and go: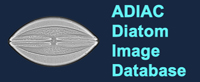 (NOT ONLY) PATTERN RECOGNITION PEOPLE: Features of diatom frustules (valve shapes, striae patterns, raphe and axial areas) as well as a key to genera in British fresh waters can be found in: A guide to the morphology of the diatom frustule, H.G. Barber and E.Y. Haworth, The Freshwater Biological Association, Scientific publication No. 44, 1981 (reprinted 1994). Address of the Association: The Ferry House, Far Sawrey, Ambleside, Cumbria LA22 0LP, UK. This small book of only 112 pages is INDISPENSABLE.
Organisation of this page: Images, Texts and Papers, References.
This page is always under construction
---
IMAGES:
Stephen Droop is maintaining the ADIAC ftp accounts at RBGE (previously Micha Bayer).
WINDOWS users may first need to download tar.exe for detarring archives in a DOS window.
For PUBLIC IMAGES, counting approx 3,400, see a list of public image files.
For RESTRICTED ADIAC ACCESS: contact Stephen (the files are no longer available on the original ftp site).


Here is small collection of SEM and optical (brightfield and DIC) images, to get an impression of the pattern-recognition problem, and to see the beauty, in gif format:
Actinocyclus actinochilus
Arachnoidiscus sp.
Craticula ambigua
Cymbella lanceolata
Diploneis heemskerkiana (1)
Diploneis heemskerkiana (2)
Gomphonema acuminatum
Gyrosigma sp.
Lyrella hennedyii
Mastogloia sp.

For more pictures see the National Geographic of February 1999.
TEXTS AND PAPERS:
Important: RBGE text concerning diatom microscopy and image preprocessing etc.
ICIAP99.ps.gz is the final paper Diatom Identification: a Double Challenge Called ADIAC. Proc. 10th Int. Conf. on Image Analysis and Processing, Venice, Italy, September 27-29, 1999, pp 734-739. Please download and print for seeing the author list (13 in total). The first three pages introduce diatoms and the project, the last three pages the databases, contour extraction, shape modeling plus diatom isolation. Only 6 pages allowed...
In preparation: papers for the ICPR, Barcelona, September 3-8, 2000. Also, the diatom meeting in Athens. Details follow later.
Two conference presentations with the title ADIAC (a general introduction to the project). (1) First Meeting of the Silicofossil Group of the British Micropalaeontological Society, Bath, UK, September 8th, 1999. (2) European Phycological Congress 2, Montecatini Terme, Italy, Sept 20-26, 1999. Author list for both conferences: Bayer, M.M., Binkert, M., Bunke, H., Ciobanu, A., Clarke, A.L., Cristobal, G., Droop, S.J.M., du Buf, H., Fischer, S., Head, R., Juggins, S., Lewis, M.G., Ludes, B., Pech-Pacheco, J.L., Roerdink, J.B.T.M., Shahbazkia, H.R., Uzquiano, I. and Wilkinson, M.H.F.
3rd European MAST Conference, Lisbon, 23-27 May 1998, pp 1071-1074; project synopsis, text in ASCII

REFERENCES:
Steve Juggins' compiled literature list concerning diatom applications, databases, microfossil identification and pattern recognition in biology.
---
---
Please send comments to dubuf@ualg.pt.
Last update: May 2001, HdB
---